Why SSD SlowMark?
Recently I was very disappointed by the fact that copying 400GB from NVMe SSD drive to another NVMe SSD drive took almost 2 hours. I was expecting this to be done in 10-20 minutes or faster, instead I've got performance of HDD drive 10 years ago.
It appears that extreme SSD speeds measured by tools like CrystalDiskMark or AS SSD measure only so-called SLC cache on SSD drive - portion of high-performance memory, which typically is not larger than 10GB.
After digging through internet and failure to find statistics of real SSD performance and also failure to find appropriate tool to measure my own SSD drives I've decided to create my own tool.
Please welcome yet another tool to measure SSD performance - SSD SlowMark.
There are only two things it can measure currently - Sequential Read Speed and Sequential Write Speed. But unlike other tools which also can measure that "same thing" ...
It is not destructive - write test is performed by writing regular files
(some low-level write-measuring tools will erase your data)
It measures performance on large volumes of data
It builds more descriptive charts
It runs anywhere where Java runs - Windows, Linux, Mac, ...
One more test I may add in some future - time of disk freeze caused by deletion of huge amount of data (N*10GB). During that period disk performs TRIM operation. Some disks completely freeze for few seconds, some disks just slow down significantly.
Typical Write chart of the modern NVMe SSD drive looks like the one below (generated by SSD SlowMark, of course):
There is relatively small portion of data written at high speed - this is performance of the drive's SLC cache.
When SLC cache gets exhausted, SSD reaches its actual long-run write performance.
Note: for that same drive, write results from AS SSD = 850 MB/s, from CrystalDiskMark = 1174 MB/s.
It is 4-6 times higher then you actually get when sequentially copying large files.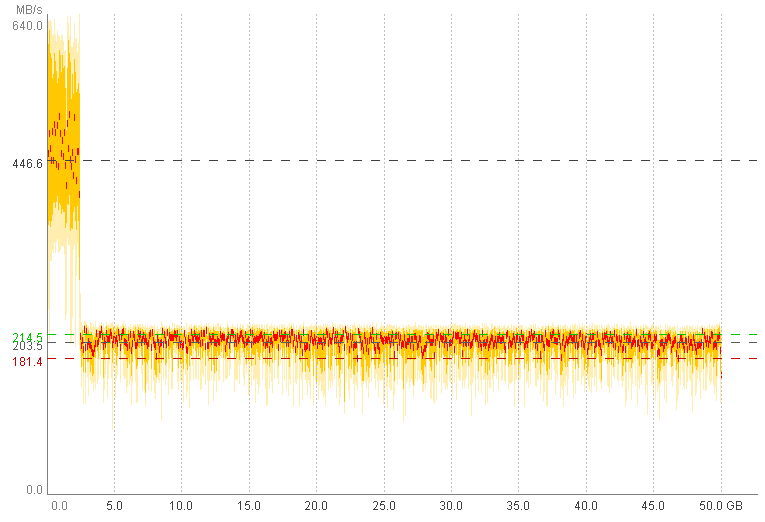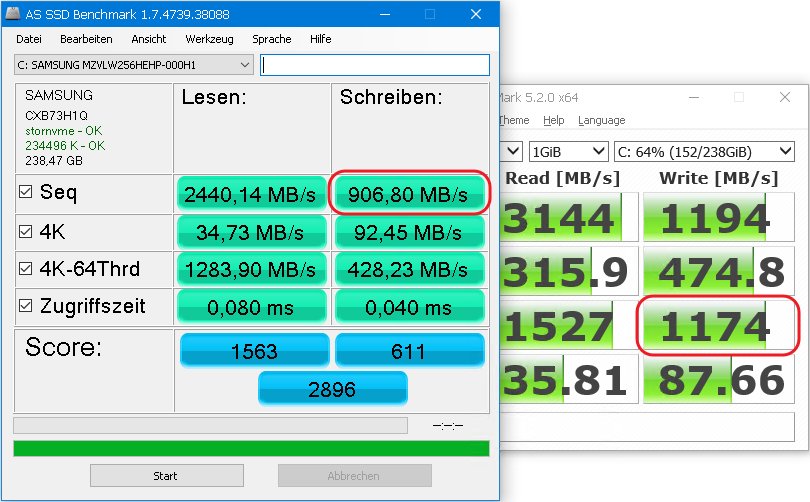 How to test?
Typical test results available in internet are performed on the fresh-new and absolutely empty SSD drive - this wrong. Why? - because SSD drives typically become slower when filled and, of course, you do not buy drive to keep it empty.
So, lets perform tests with drive initially filled at 50% (or more) and after writing entire test data set there is still at least 10-30% of free space on disk.
According to my observations, in such initial conditions, size of the test data set required to both find size of effective SLC cache and run test quickly is 50GB. So let's use this size for reference.
For example:
There is 512 GB disk drive.
Let's start 50 GB test when drive initially filled by 300 .. 400 GB.
Now ...
Go get latest version of SSD Slow Mark.
To be executed it requires Java Runtime Environment. If you already have JRE8 (or higher) installed, small package named like "*_no_jre.zip" should work for you. Otherwise - download package named like "*_with_jre.zip"
Unpack it somewhere to SSD drive you want to test (having 50+ GB of free space is recommended, as mentioned above).
Start test-write+read-050gb ...
... wait for the test to complete. HTML report will be displayed automatically.
Advanced usage ...
You may start test-write-all for test which consumes entire free space, plenty of files will be generated in folder _data
After that you may start test-read-all to read all that generated data.
Check sources for information about supported configuration options.
What's in report?
In generated report you will find:
Averaged summary, where most important things are:

- portion of data written at highest speed - this typically correspond to size of SLC cache available currently.
(Note: some drives may perform either constantly bad - this means it does not have SLC cache, or constantly good - this means either it has quick memory like 3D XPoint or you did not yet rech end of SLC cache area which in same cases may take 20-30% of disk drive.

- max read speed - how quickly your programs start depends on that

- most typical write speed - how quickly you can fill your disk depends on that




Detailed chart of read and write test:


Raw metrics are collected into CSV files - you may use them to build aggregated data for multiple drives in Excel or similar tool.
My results
And here are some results I've got on some SSD drives
Note - read & write charts for Intel 660p are really strange ...
Your results
If you have some useful test results ...
- fresh models of SSD drives
- older models, but still recommended for buy
... you may send your results (archived folder with report files) to software.tools4free@gmail.com to get them published here. Additionally please specify connection type, same model may have multiple ones.